Where Does Your Passion Lie?
This past week, as a result of the success my volleyball team at Korah as had, I've been told by a few people that you can tell how 'passionate' I am about the sport. I've been told that you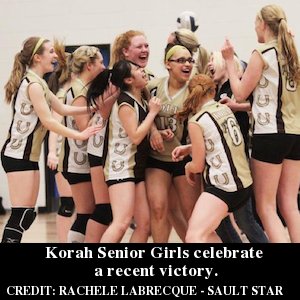 can't invest as much as I have and see a difference made in a team if you as the coach are not truly passionate about it. Well I had to agree. Because of my 'passion' for the game I've studied it, watched it, listened to others' ideas on it, and of course played it for many years. The truth is, there's no sport I'm more passionate about than volleyball.
Then a few days later, I found myself continuing in my read on Crazy Love by Francis Chan, and a quote at the beginning of Chapter 6 written by one of my favourite authors; A.W. Tozer, in a book in my library called The Pursuit of God, jarred me. It had me take a moment to evaluate my relationship with my Lord.
O God, I have tasted Thy goodness, and it has both satisfied me and made me thirsty for more. I am painfully conscious of my need for further grace. I am ashamed of my lack of desire. O God, the Triune God, I want to want Thee; I long to be filled with longing; I thirst to be made more thirsty still. Show me Thy glory, I pray Thee, so that I may know Thee indeed. Begin in mercy a new work of love within me. Say to my soul, "Rise up my love, my fair one, and come away." Then give me grace to rise and follow Thee up from this misty lowland where I have wandered so long.

~A. W. Tozer, The Pursuit of God (Camp Hill, PA: WingSpread, 2007)
The question came to my mind, am I more passionate about this 'thing' that has truly, radically transformed my life? Do I pursue with more ferocity my relationship with my Saviour. Am I constantly in study, prayer, worship and regular growth? Is my 'passion' for the Lord making an impact on the people God has called me to 'coach' in life? It's really an ugly thought to think that something other than Jesus could potentially generate more passion in our lives if we're not careful.
In the end, the Holy Spirit challenge is never a bad thing. It's healthy to take a look at our lives on an ongoing basis and be reminded of the ONE we should truly be 'passionate' about, the ONE that came to give us undeserved, grace filled, new life.
You shall love the Lord your God with all your heart and with all your soul and with all your mind and with all your strength. Mark 12:30 (ESV)